USB-C Power Delivery
USB-C is the new standard for power delivery, and it's being implemented in more and more devices. But what is USB-C power delivery? How does it work? And how do you charge devices with it?
USB-Power Delivery (PD) is a fast-charging technology based on the USB-C standard. Certain Apple® and Android smartphones/tablets and various laptop brands support the technology, which provides much higher performance than standard charging methods.
USB-C PD is a new standard that can deliver up to 240 watts of power, which is enough to charge laptops and other devices that require more power than USB-C alone can supply. This specification was created by the USB-IF in response to requests from laptop manufacturers for a connector that could deliver more power.
The USB-C PD standard is compatible with the USB4 and USB Power Delivery 3.1 specifications. The USB-C PD specification defines how devices can use the USB-C connector to supply power and how these devices are identified and managed. It defines what the pins in the connector do and how they can be used to provide power at various voltages and currents.

What are the benefits of USB-C PD?

USB-C PD can supply a greater amount of power than standard wall chargers, so it is especially useful for getting power back into devices fast. USB-PD can charge smartphones/tablets up to 70% faster than a standard USB charger that only offers 5 watts of power. Plus, since USB Power Delivery is an open widely adopted standard, more chargers are using the technology. This flexibility means you won't have to worry as much about losing, breaking or not having your specific/proprietary charger because more chargers will work with your USB-C PD device.


USB Type-C™ - the versatile, feature-rich connector

Be it laptop, tablet, smartphone, gaming console, headphones or mobile speakers, a fast-growing number of devices is using the USB-C interface. The compact format of the USB-C plug offers completely new options. Peripherals can now be connected easily and conveniently, a device's design can be smaller and the Power Delivery function can reduce charging time significantly. The reversible connector can be plugged in either orientation without minding polarity, backward compatibility to USB 3.0 or lower is given by using the USB standard.
Depending on the version, up to 40 Gbps (USB4®) data rate and 8K video resolution can be transferred via USB-C™, which is ideal for docking stations. With only one cable connected to the laptop, it is possible to directly link connectivity and peripheral devices. That means you don't need a dozen different cables to connect your laptop to printer, monitor, keyboard, mouse and network. Plus, power is supplied via the same cable. Depending on your laptop, there is a charging capability of up to 100 W or more, for which specified USB-C™ cables must be used
Starting in 2024, smartphones, tablets, smartwatches, speakers, headsets and all other small devices need to have the USB-C connector per EU law. As of 2026, laptops need to be chargeable via USB-C.
Is Power Delivery technology safe?

Yes. The USB Power Delivery chipset always delivers exactly the right amount of power. Whether it's a smartphone or a laptop: the charger recognizes the connected device and negotiates the required power to charge it as quickly as possible. This negotiation ensures a quick charge without delivering too much power or damaging the device's circuits.
However, a word of caution: Devices that charge with higher wattage also require
special cables
that can transport particularly high currents; otherwise, there is a risk of cable fire.
USB-C laptop port symbols explained - see what your ports can do

The above-mentioned USB-C features are great, but keep in mind that laptop manufacturers can choose not to embed all of them into their devices. The oval form factor of the USB-C port always remains the same, but the capabilities vary a lot. How do you identify what your ports support? Often enough, you can only check your laptop's documentation, but sometimes, small symbols next to the ports identify their capabilities. The table below explains what they mean.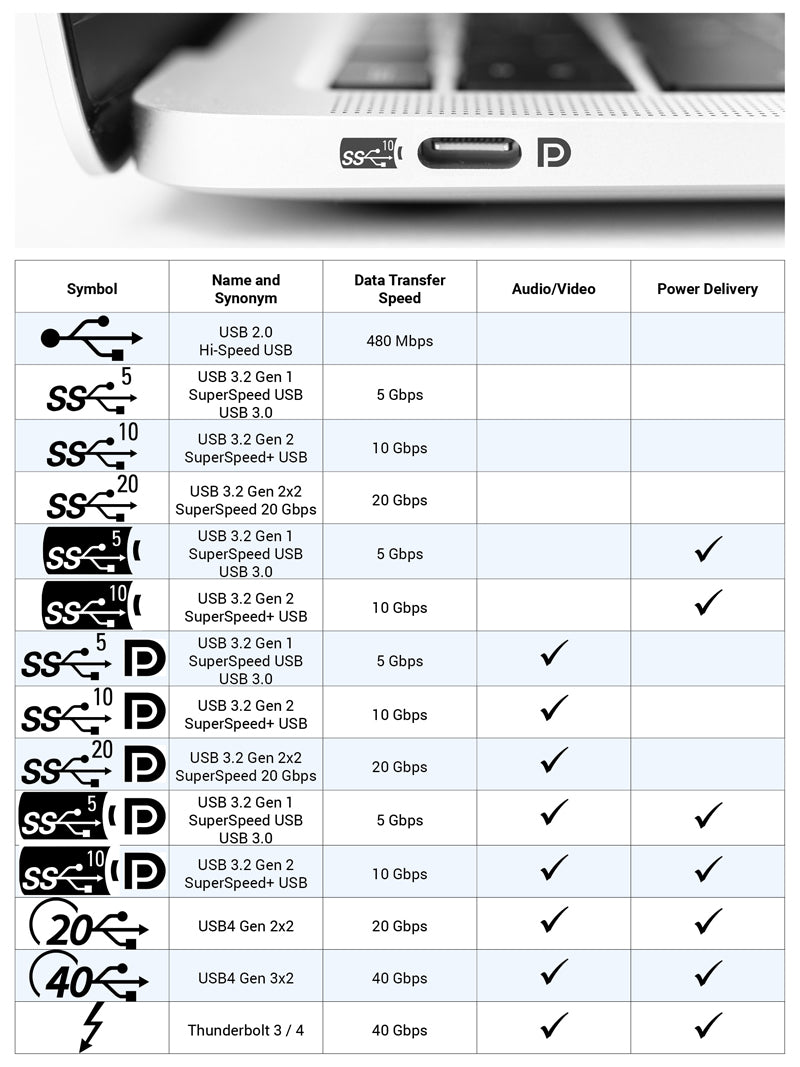 USB Power Delivery 1.0, 2.0, 3.0 and 3.1 Standards - Confused yet?

There is no need to be. There are four iterations of the USB PD standard. USB PD 1.0 is a rather basic version providing fixed power profiles, whereas the newer PD 2.0, 3.0 and 3.1 revisions are more dynamic and provide greater flexibility.


USB Power Delivery 1.0
| Profile | Voltage | Current | Power | Supported devices |
| --- | --- | --- | --- | --- |
| | | | | smartphones, hard drives, small accessories |
| | | | | smartphones, tablets, Ultrabooks™, larger accessories |
| | | | | future smartphones, notebooks, displays, hubs |
| | | | | larger notebooks, hubs, docking stations |
| | | | | workstations, hubs, external graphic cards |
USB Power Delivery 2.0/3.0
Profile

Voltage

Current

Power

Supported devices

headphones, small accessories

smartphones, cameras and drones

tablets, and small laptops

2.25 - 3.0 [A]
3.0 - 5.0 [A] *

large laptops and displays
USB Power Delivery 3.1
The USB PD 3.1 specification divides power into two ranges: Standard Power (SPR), which is the current USB PD3.0 standard with a maximum charging power of 100 W and Extended Power (EPR) with three newly added voltages of 28 V, 36 V, and 48 V. The maximum output current to the three voltages is still 5 A, while the maximum output power can reach 240 W.
| Profile | Voltage | Current | Power | Supported devices |
| --- | --- | --- | --- | --- |
| | | | | |
| | | | | |
| | | | | displays, gaming laptops, desktop PCs |
* Requires specially rated 240 W USB-C charging cable

USB Power Delivery - Power Requirements per Device Class

Here is a brief overview of the power requirement of different types of devices.


USB Power Delivery - Fast Charging Times

USB charging is great, but it can take a long time to charge your phone or tablet if you're using a standard USB port. USB-C Fast Charging puts an end to that. See below for how fast you can charge your smartphone using a USB-C PD Charger with Fast Charging capability.



Charging method

Device

Cable

Charging time
(up to 50%)

Charger rated power